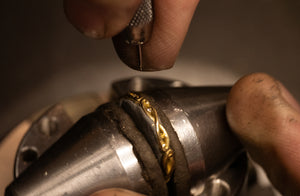 Keep the memories of your beloved jewellery alive through remodelling.
Remodelling your jewellery is a great way to keep the meaning and sentimental value of a piece alive while reimagining it into something you will love wearing. Our expert designers will collaborate closely with you to create a new piece that respects memories embedded in the original piece while bringing something meaningful and new to the story. Handcrafted on-site at our Wellington workshop, you will be involved in the entire remodelling journey.
Remodelling a piece of jewellery usually takes between 6-8 weeks. We are now fully booked until early 2024 for this service. If you would like to be added to a waitlist or book an appointment for the new year, please get in touch with our team.
Please note we do not set or reset any jewellery with synthetic lab grown diamonds - learn why. In instances where we have any doubt about a diamond's ethical sourcing or the quality or integrity of a gemstone, we will be unable to move forward with a project.
Remodelling Design Consultation
Reimagining your jewellery is a personal journey
Starting your remodelling journey is exciting but can also be intimidating. We suggest reflecting on your personal style, memories that are important to you and taking some time to get inspired by designs you love. Sometimes looking at images online can get your creativity flowing, otherwise our expert jewellery consultants are here to help.
Discuss your design ideas with us in person, via email, phone, or virtual consultation. Our jewellery remodelling design work is highly regarded and we'll do everything we can to provide you with the best possible experience and outcome.
You can trust us
Our expert jewellery consultants listen to your needs, your dreams, and work with you to carefully remodel your jewellery because we know your piece holds important memories.
Remodelling your beloved jewellery is very exciting, but can also be unsettling. Our designers and master jewellers understand that you are trusting us with pieces that often are irreplaceable due to the sentimental value they hold. We will always treat your jewellery with the utmost respect at every point of the journey. We will give you our honest, professional opinion with the quality and safety of your jewellery always top of mind.
Redesign is a collaboration
The beauty of custom design is that we will work together to remodel your piece of jewellery to ensure you are completely happy with it.
We'll present you with sketches or models. And you can feel good knowing we make every effort to reuse every part of the original piece. If we add new precious metals, diamonds or gemstones you can trust our sourcing practices.
Digital modelling of your design
We use a combination of the latest technologies and traditional craftsmanship to bring your remodelled jewellery design to life. We test and refine the design in our CAD (computer aided design) software and can also 3D print a scale model in a special polymer for you to try on to ensure the design is correct in every detail.
Crafting Your Remodelled Piece of Jewellery
Once the design has been perfected, your piece of jewellery is then remodeled by hand by our award-winning team of jewellers in our Wellington workshop.
Creating pieces that last generations
The value and sentimentality of your jewellery is of great importance to us and our commitment to this is forever. Your piece will come with a certificate of craftsmanship which includes a lifetime free checking and cleaning service on your remodeled piece. This service is provided by our experienced jewellers on-site at our Wellington showroom and workshop.
We look forward to helping you craft your dream piece. Who knows, maybe your great, great grandchild will be adding to the story in the future by visiting us to remodel your beautiful piece of jewellery.
Michèle A'Court remodelling story
Recently, we had the wonderful opportunity to work with the legend of New Zealand comedy, Michèle A'Court ONZM, to remodel two special heirloom rings from her beloved mother, Donna. These two treasured rings have been well-loved and worn, carrying a lifetime of memories.
Discover revolutionary design in The Floeting® Diamond. No claws. No clasps. Nothing comes close.
View all