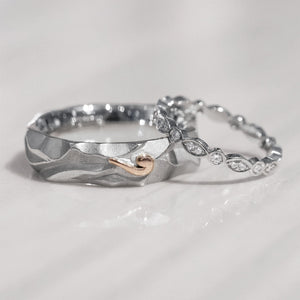 Our custom wedding ring inspiration gallery is a curation of some of our favourite past designs. Inspired by wonderful stories, beautiful precious metals, diamonds or gemstones and featuring expert craftsmanship. There are so many beautiful ways to symbolise your relationship. Take a different aspect from a few of your favourite pieces to build a bespoke wedding ring design, recreate a piece with a different precious metal or finish, or simply get one that you love remade. The choice is yours.
The rings shown below are past Village Goldsmith designs that have now been sold. If one sparks inspiration get in touch with us and start your own wedding ring design journey.
0 products
Sorry, there are no products in this collection.