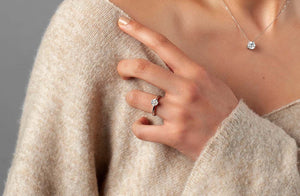 Revolutionary design and stunning radiance - the perfect diamond Engagement Ring, Pendant, and Earrings 
There is nothing on earth more radiant than the simplicity and elegance of a perfectly cut diamond. Which is why we have created a setting that puts absolutely nothing between the admirer and the diamond. The Floeting® Diamond. No claws or clasps. No enveloping metal. It is literally as if the diamond itself is suspended above the ring, pendant or ear stud. 
Read more about The Floeting ® Diamond setting here or shop the products below. 

We've got your covered with our Rady To Ship Collection